Cecilia Ostlund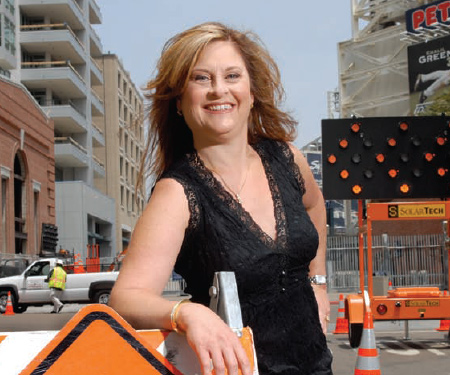 CECILIA OSTLUND MOVES THE CITY by ensuring safe passage for vehicles and pedestrians around construction sites. When a massive 60-foot sinkhole swallowed a car on Interstate 15 in February 1998, Caltrans needed to begin repair work immediately, so they called Cecilia's Safety Service, Inc.
Whenever drivers find themselves safely navigated around a construction site, they can thank a traffic control company like Cecilia's Safety Service, which has been serving San Diego County for 25 years. "Contractors can't get out on the street without us," she explains. "We provide the main artery for essential labor, materials and deliveries." Cecilia's Safety Service does everything from acquiring permits, drafting traffic control plans and supplying all the necessary signs and arrowboards to providing flaggers to direct traffic when necessary.
Since timing is critical in construction, Cecilia's Safety Service guarantees clients prompt, efficient service, saving them time and money. In fact, she is available to her clients 24 hours a day. This attention to service has earned her the loyalty of numerous contractors and developers like Bosa Development, which has worked with her for seven years, even including her on the largest single-day concrete pour in San Diego history at the Grande at Santa Fe Place in 2002.
"Our clients have to deal with the big picture and a thousand details," says Ostlund, "but they know they can count on us to handle traffic control from start to finish." And since her employees are so well trained in current safety procedures, she can boast a flawless safety record: "We've never had an accident in 25 years."
As the first woman in San Diego to own a traffic control business, Ostlund feels proud to have opened doors for other women to enter the field. She also feels pride in her staff, which helps her coordinate all the details toward a seamless event.
"When I arrive on a jobsite and see downtown lit up with all our equipment and people, it's so exciting to know it all comes together on time. I love being a part of the projects that are making downtown San Diego such a fabulous place to live."
---
Original story featured in San Diego Magazine.